A story about healing from racial trauma and systemic racism
When Jade 'clashes' (read: is on the receiving end of racist behavior) with yet another teacher, her high school guidance counselor demands that she see the new school therapist. Having had terrible experiences in the past, she is very skeptical, even with her big brother's words of encouragement. Armed with his support, she walks into the session to find out if anyone at this school could ever understand her.
Structural racism impacts
everyone
You can't be trauma-informed without talking about race, racism, and privilege
Trauma impacts all people, and especially those from minoritized racial and ethnic groups. We must recognize the specific ways People of Color are exposed to, impacted by, respond to, and cope with trauma.
The JADE films center People of Color and their experiences of trauma and racial trauma. They stress the importance of incorporating and addressing race-based trauma and systemic racism in the therapeutic process. The content and messages of the films were designed to resonate with staff in schools, justice, and child welfare systems. We hope they will provoke discussion and self-reflection and build capacity for the transformation of systems by challenging commonly held perspectives, offering insight and ideas, and inspiring change in policies and practices.  
Exploring the important intersections of trauma, race and ethnicity
Jade is a newly produced 18-minute short film that portrays a fictionalized black high school student, also the child of an immigrant, as she attempts to confront and cope with systemic and racial trauma. We created Jade and the accompanying documentary film (not yet titled) as a method of exploring the important intersections of trauma, race and ethnicity. We also used these films to highlight the role of structural racism in perpetuating cycles of trauma and challenges faced by professional helpers regarding their understanding and ability to address historical and current day race-based traumas when working with youth.
While designed to communicate serious messages, our film evokes tones of empathy and understanding and is intended to invite, rather than shock or shame, all audiences. We have purposefully introduced light-hearted and humorous exchanges, images of love and resilience, and our dialogue is modern and youthful yet clear in its messaging.
A short film by tinheart productions developed with the Center for Child Trauma Treatment, Assessment, and Service Interventions (CCTASSI).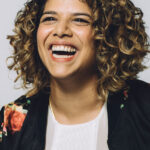 Reshmi Hazra Rustebakke is a multi-faceted filmmaker and theater maker. She has her B.F.A from New York University as well as her M.F.A in Directing from DePaul University. During her time in New York, she received the Robert Moss Directing Fellow at Playwrights Horizons Theatre, as well as the Artist of Color Fellowship at New York Theatre Workshop. She works creatively developing new work, directing, writing and producing. She has worked at The Vineyard, Playwrights Horizons Theatre, New York Theatre Workshop, TimeLine Theatre, Chicago Shakespeare Theater, Free Street, and many more. She is the co-director of critically acclaimed Brujos, and director for FOBia, The Haven, Ethel and Agnes and several more projects in development. She developed a new show called Detour as a Study Hall Fellow through OTV and Pop Culture Collaborative. Currently, she freelances as a Culturally Responsive Reviewer and writer for K-12 textbooks.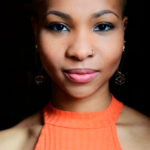 Kyra Jones (she/her) is a Chicago-based Black feminist screenwriter, filmmaker, and actor. She received her degree in Theatre and Gender Studies from Northwestern University. She's currently a staff writer on the Hulu series WOKE and the ABC series QUEENS. Her award-winning web series THE RIGHT SWIPE (OTV) was an official selection at Austin Film Festival, Urbanworld Film Festival, and many others. Her comedy script, GOOD VIBES ONLY won Best Half-Hour Pilot at the 2020 Nashville Film Festival. Her upcoming feature, GO TO THE BODY, won 'The Pitch' at the 2020 Chicago International Film Festival and Screencraft's virtual pitch competition. As an actor, she's appeared on the series finale of EMPIRE (Fox), THE CHI (Showtime), and CHICAGO JUSTICE (NBC). In addition to being an artist, Kyra is a sexual violence prevention educator and survivor advocate, formerly serving as the assistant director of Northwestern University's Center for Awareness, Response, and Education (CARE).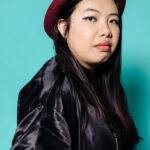 Aimy Tien (she/they) is an award-winning multidisciplinary artist based in Chicago. As a performer, writer, director, and producer, Aimy is driven by narrative plenitude, bringing the stories of people of color and historically excluded groups to the page, stage, and screen. Her work includes commercials, industrials, and narrative film and television.
She is a company member of 2nd Story, and the founder of tinheart productions where they are developing multiple narrative projects centered on the intersections of race, healing, and sexuality. She is also currently producing Go to the Body a feature film focused on the stories of survivors and secondary survivors.
Outside of her film and stage work, Aimy facilitates conversations and workshops around the country on storytelling, queer advocacy, and equity, diversity, and inclusion.They are the creator of The Queer Joy Project, a forthcoming multimedia collection. For more about their work, you can visit their site or follow them on Instagram.
Raised in Milwaukee, Angellic Ross (she/her) attended Northwestern University where she studied Performance Studies and Film & Media Studies. Her first short film was a documentary, revoLUZion, which won first place at the My Hero Festival. Following that, she produced the short film Down the Rabbit Hole which was nominated for Best Picture at the Single Take Film Festival.
Angellic's most recent project is a multimedia feature documentary piece, A Journey Through Time, for her sorority's 100 year anniversary. She is currently producing her first narrative feature film, Go to the Body, which won the Chicago International Film Festival pitch competition.
Outside of her producing, she is an Advisory Board Member of Sisters in Cinema and was a part of the inaugural class of Full Spectrum Features and the Chicago Film Office's Chicago Independent Producers Lab. In 2021, she also began teaching various producer classes in partnership with local organizations.
In addition to her film work, Angellic is an Associate Director of Media Strategy at an advertising agency. Check out her work here.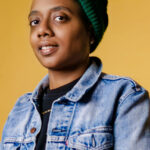 Ashley C. Battle is a groundbreaking filmmaker and music producer from Chicago, Illinois. Born in Chicago's south suburbs, Ashley exhibited a love of music and storytelling from an exceptionally young age. Ashley's passions led her to study audio engineering and music production at The Institute of Production and Recording in Minneapolis, Minnesota. After obtaining her Bachelor's Degree in 2011, Ashley began filming music videos for local Minneapolis talent. These early experiences allowed Ashley to create unique cinematic visuals underlined with her own self-composed, self-produced music.
Ashley began her professional career in 2012. She first worked as a commercial Production Assistant (P.A.) and eventually landed an internship with Schumacher Camera in Chicago. Currently, Ashley works in the camera department for several national commercials, docu-series productions, and scripted projects. Ashley is currently signed to One at Optimus as a director and continues to shoot and direct her own content
Dr. Tracy Fehrenbach, Jade's Executive Co-Producer, is a clinical psychologist and Assistant Professor with the Mental Health Services and Policy Program at Northwestern University's Feinberg School of Medicine and the Co-Director of the Center for Child Trauma Assessment, Services and System Integration. She has dedicated her career to clinical work and research that promote healing for people impacted by trauma. She hopes that Jade helps folks "see" how racism alone, in its blatant as well as insidious and subliminal forms, can be traumatic, especially when it goes "unseen" and invalidated by others. Tracy thanks her outstanding creative colleagues (writer, director, producer and cast) for making Jade such a beautiful and poignant piece.
Dr. Nicole St. Jean is a Clinical Psychologist and Assistant Professor at Northwestern University Feinberg School of Medicine. She is also the Associate Director of the Center for Child Trauma Assessment, Services, and System Integration at Northwestern and the previous Director and founder of the Kovler Center Child Trauma Program that provides comprehensive services to immigrant and refugee youth. Dr. St. Jean has focused her career on supporting healing of complex trauma with marginalized individuals, families, and communities and she works to create change in the systems and structures that intentionally or unintentionally induce harm. Additionally, she has a thriving private practice in Chicago.
I'm so impressed and the acting was A list. Are these famous actors?!?! I laughed and I cried watching this.
Absolutely loved this! Very relatable and hitting important feelings and topics of young women in my community. Would love for this to be a series. Also, acting was fireee! Good job y'all
I was so impressed…The subject obviously hits close to home…shared it with my girls. Thanks for doing your part to highlight racism, especially in schools and what kids CAN do!!
Learn more about the intersection of race and trauma
NCTSN: Culture and Race infographic
NCTSN: Addressing race and trauma in the classroom
Healing and Liberation: Addressing the Trauma of Racism
A video by Dr. Thema Bryant-Davis, PhD
Racial and Gender Health Disparities
A video by Dr. Wizdom Powell, PhD
SAMHSA: Behavioral health Equity